Founded by husband-wife owners Yen Vo and Chef Jimmy Ly, Madame Vo brings homestyle Vietnamese food prepared with the best ingredients and lots of love to New York City's East Village.
Our flagship, Madame Vo Kitchen, opened in early 2017 serving comforting family recipes & regional specialties passed down by Yen and Jimmy's parents. In 2019, we opened Madame Vo BBQ, which pays homage to the celebratory tradition of Vietnamese barbecue and beef seven ways.
We hope to see you soon!
212 E 10th Street
New York, NY 10003
(917) 261-2115
Tue—Sun noon-4pm (lunch)
Tue—Thu, Sun 5:30-10pm (dinner)
Fri—Sat 5:30-11pm (dinner)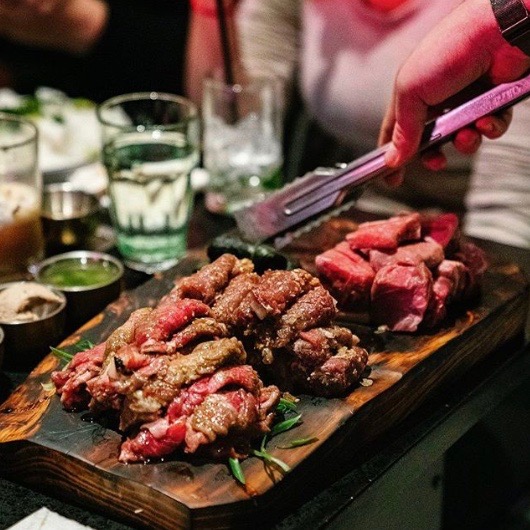 104 Second Avenue
New York, NY 10003
(917) 675-7570
Sat noon-3:30pm (brunch)
Daily 5:30-11pm (dinner)
NOW INTRODUCING: ĂN NHẬU HAPPY HOUR @ MADAME VO BBQ
MONDAY-THURSDAY 5:30-7:30pm
Nhậu simply translates to "eating and drinking, just for fun." In Vietnam, there are thousands of quán nhậu, or open-air bars, where friends and family get together for beers and small plates of street food after work...and often well into the night. Our "happy hour" menu takes inspiration from classic finger-friendly dishes one might find at a nhậu session: think lemongrass sea snails (oc), grilled beef skewers (bo nuong), and fried tofu (dau hu chien). To soak it all up: all of our beers will be offered for $4 and wines by the glass for $6.